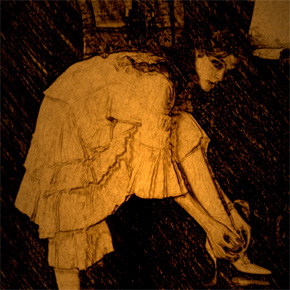 Wraith Collection
Gothic in the true sense of the word, ornate but gently so as not to fatigue the eye, the way a vine grows over a gate. We've taken on the colors of nature, softened with rain and mist, nothing garish or heated but lovely and natural as morning dew and as cool and sweet as night blooming jasmine. There is a golden glow that is more nostalgic than sad, that finds the beauty in sorrow and turns it into poetry.
West of the Moon
Our collection for summer 2011 is based on the journey, West of the moon, illustrated so delicately by Kay Nielsen. ... the sunset colors, some bright and others muted, the luster of silk and apricot glow of the setting sun through the the shadows of the forest. We hope you will love the clothes we have worked so hard to create for you!
The Gypsy Moon Sale Rack
The famous Gypsy Moon Sale Rack is not just for things that haven't sold. It's a catch-all for everything that doesn't fit a current category. It could mean a precious one-of-a-kind item we used for a photo shoot, a pair of Edwardian leather boots, a piece of jewelry or a designer bag.
Although some of these items are treasures, not all sale items are perfect. The Sale Rack price will accurately reflect the condition of the garment, as will the item description.
.