To have your photo or comment included in the Customer Album please contact us!
Hi! I would like to thank you! For your wonderful website... For the fact that you accept money-orders For your excellent design, delicious clothings.... Thank you for everything, that you've done and will do in the future...
Love Mika
I already got the bodice today, and it's absolutely GORGEOUS, a dream! And it fits perfectly! Thank you so much! Now I'll only have to find an occasion to wear it... and if I can't I'll make one. :-) Regards,
Chris
It never ceases to amaze me - Your clothing looks beautiful in the catalog, but it's always even better when it arrives!!!! And it arrived so fast! ...thank you thank you thank you! ...I've told everyone I know about you - you're the BEST! Brightest Blessings (and many thanks!) --
Mary
Received my today, and have to tell you how EXTREMELY pleased I was with all 3 items. I will be placing another order very soon, eventually I'll pick up everything you sell. Thank you so much, once again.
Kathy D.
everything is perfect as usual...i have good luck wth the things i get from you and am very happy with everything. i will be in touch again soon .... all the best,
helen
You have the most beautiful clothes I have ever seen. I have been looking for a blouse to wear that I can make sacred for every Reiki session I give. I found it at your site. If I ever hit the lottery, I am buying EVERYTHING! :-] Keep up the beautiful work. blessings,
Eileen S. B.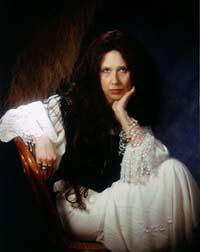 Morgana wearing a Bridget Blouse
Morgana
this isn't an enquiry, merely a quick note to say that i think your site is beautiful! it's nice to see well made and thoughtful designs for a change in this world... now i've discovered you, i think i'll be doing some saving, followed by gratuitous spending on your catalogue!!! blessed be,
lucy xxxxx
...grateful thanks to the talented women who sew these beautiful pieces! deb I will order more in the future, you guys are great!! Thank you,
Ginger N.
UNBELIEVABLE CLOTHING! Exactly what I would have in my fantasies! Now I have to save up lots of bucks ... Best wishes for continued success..
Allison in Milwaukee