To have your photo or comment included in the Customer Album please contact us!
Hi Jennifer!

I brought one of the gorgeous Cami Fey you made to Belize, Central America on my recent vacation there and received many compliments on it. Attached is a picture.

Thank you so much for offering such fabulous delights!

xoxox Ramona
Jennifer,

I just got the Anamaria pants today and I love them! They have such a flattering cut and they look fantastic on. Thank you and I look forward to ordering more clothing in the future.
Moira
Dear Candace and Jennifer,

Thank You so much!

I am very happy with the blouse and as always it fits perfectly. It really is beautiful. And how thoughtful of you to send me incense. Tommorrow we are celebrating Halloween. I will be wearing three of your skirts and a pair of pantaloons, all that I had purchased maybe over 10 years ago and they are still so beautiful.
Take care...Love, ann kent
Dear Jennifer and Candace,
Today I received the black taffeta flamenco skirt and the boheme cami. I am so happy with both of them. They both fit like I had been at your shop for fittings and I so love your fabric and color choices. I also love dealing with you. The clothing is so unique and beautiful, and Jennifer is always so warm and beautiful on the phone, I almost feel like I have my own private designer. Thank you so much and I am impatiently awaiting to see your next collection. Candace, through the years, you have just gotten more
amazing.
Love, ann kent
Hi Candace and Jennifer!

I am sending you a pic of myself in my new fairy outfit. I feel like a fairy princess of a magical realm! The fabrics and workmanship are absolutely beautiful. I can see that much time is taken into making each garment. Thank you for your beautiful clothing and for being so friendly every time I speak with you. I will be ordering more from you in the future. Thanks again.
Lori Abney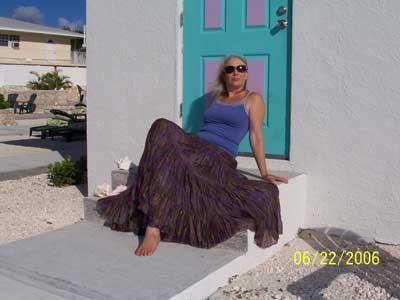 In Gypsy Moon Clothing
Lillian
There's nothing wrong with a little frivolous decoration! Especially when it gets the creative juices flowing! I only bought 2 silk flowers and a magazine. When I recieved them, I was happy to see that everything was lovingly packaged in colored tissue paper and tied in cream colored ribbon. I gave my sister one of the flowers. We and my niece marveled at the soft fabric. Anytime I wear it, have it nearby, or find myself fondling the petals, I imagine new scenes for a character in a story I'm working on.

I bought the flowers in order to sort of "test drive" the quality of products from Gyspy Moon. I'm happily sold! I can't wait to start ordering actual clothes from the store! Thank you for the wonderful service! I hope your store stays successful for a very long time!

Suggestions for clothing or website: I would love to see what you could do with lingerie and night gowns!
Guest
Dear Mooniacs,

The Magical Skirt has found its way to NJ :) Oh, truly Magikal indeed! What a wisp of shimmer, a flutter of butterfly wings, a glint of sunlight on an the North Sea in autumn! In other words, once again, I am mesmerized by my Gypsy Moon treasure. You really need to market these as the sole antidote to the blues!

Granted, no donuts or I'll grow out of this beauty. Ah - an incentive to keep working on my Flamenco Rumba and hopefully stomp off an inch here and there :0

Thank you so much for everything. Needless to say, I am a HUGE fan! Now I need to add some tops to these outrageous skirts.

Blessings and love to all of you,
Lillian
(and Moose, Xena, Bill - who loves to see me happily sashaying around in my newly acquired finery)

If they chase all the critters out of the woods, who will the fairies dance with?
Lillian
I cannot decide which photos I like best so I will send you a range to choose from.

Jenna was absolutely transported, wearing her Gypsy Moon treasures to the Senior Prom last nite.

The ears you gave us were the perfect touch !! You can imagine the number of delighted comments she got - many people had to touch them to convince themselves they were not her real ears.

The little purse you made her to hang from her corset belt was inspired ! I would never have thought of that, but inside the purse, her camera was at hand all nite but not in the way. You folks were so generous to us and helped make the planning of the outfit almost as exciting and fun as the wearing of it.

Every element of the outfit will be treasured and worn in different combinations to Ren Faires and special events for years to come !! She was comfortable & felt full of elven magic all nite long!! THANK YOU more than we can say for making this nite so truly special !!

We will sing the praises of Gypsy Moon and urge folks to check out the dreams on your website for ages to come !!
God's Blessings, Kat & Jenna

Kat Bunker
Hi Jennifer
I just wanted to send you one huge Thank You!!!! I received my Gypsy clothes and I loved everything, I will be ordering more soon. My goal is to have my closet filled with beautiful Gypsy clothes. Thanks again for all your help and Thank You Candace for coming up with such awesome clothes.
Pattie