To have your photo or comment included in the Customer Album please contact us!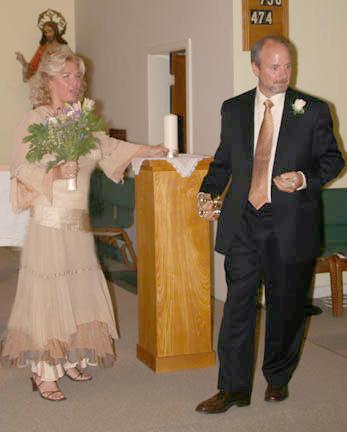 Hi Candace, I wanted to send you some photos of the dress. The wedding went wonderful. The dress was absolutely weightless and beautiful. Everyone was
touching it, checking out the layers. They couldn't believe the quality and colors. And the colors were so complimentary to my complexion and the whole wedding environment. Everyone kept saying I glowed.
I didn't have a professional photographer so I never got a really good shot of the dress, but the one's I
attached show how well it fit and looked. The dress helped make the day because I was so conflicted about
what to wear and this was so right. Everyone agreed the dress was so me. Again, thank you again for all
the care and attention. A wonderful experience.
Please do use any of my comments as a wonderful
reference to the experience. My very best. With
gratitude,
--- Charlene
Charlene Logan
Dear Candace and Jennifer,
My dress arrived today. It is absolutely beautiful.
The warm colors are more than I could have hoped for.
The champagne and peaches are the perfect compliment to my skin and hair. I love the peach on the sleeve
and the colors of the petticoats. The blue is as magical as you described. Everything fits perfectly.
At first I was a little worried it was too long, but its only an illusion when I look down at my feet. A mirror confirms it brushes my ankles. If I say so myself, I look stunning. (My mother confirms it also)

It fits better than anything I've worn in years. No bulges. Nothing too tight. (I can finally wear a
cami!!) I am looking forward to a wedding evening free of undergarmet restraints! And it does indeed
make me appear leaner.

Thank you for all the care and attention that went
into the dress. It shows! And thank you for the flower. After seeing it, I know it is what has to be
in my hair on my wedding day. A gorgeous compliment.

I look forward to rounding out my wardrobe in the future with Gypsy Moon clothes.

My very best,
Charlene

Charlene Logan
Hi Jennifer,

Just wanted to let you know I received my order and I知 delighted, the pants are WONDERFUL! You folks sure do great work. They池e fabulous, comfy, and I appreciated the little extra treat you enclosed, as well :-) Thanks so much, I知 sure I値l be back for more! (I may very well be interested in the brown Tellulah jacket you describe here) I知 off to Provence the week of Thanksgiving, but I値l be back in touch when I return. Thanks again, I知 a very pleased and satisfied customer!
Pam
Hello again,

I want to thank you once again for some great goodies! The Gemini Boots!!! What can I say? I put them on and they fit like a glove, like they were custom made for me. I love the Skif sweater and so does my daughter. She wants it, but she's not getting it!! Needless to say, I have already gotten many compliments on both items. Thanks again so much!!! :)
Lori Abney
Lunar Observations

I cannot say enough good things about Gypsy Moon. Every piece of clothing I have bought has been a treasure. Even the packages they're shipped in are lovely, and there's always a little something extra tucked inside, Just Because.

The same care and attention to detail extends to customer service as well. Whether it's altering a cami so that it fits perfectly (and how Candace did that with only my bust measurement and a photograph, I'll never know!) or helping to put together the perfect pirate outfit to wear for an exhibit opening at the museum where I work, they have gone the extra mile, and then some.

But it's always the unexpected joys that are the best. I have fibromyalgia. On high pain days, even the softest, baggiest cotton t-shirt and sweat pants can hurt. I bought a pair of Rosebud Bloomers because they were girly and frothy and pink. I wore them during my last fibromyalgia flare and *they didn't hurt.* They were so light, it was like wearing air. To find something like is a true gift, and one for which I am very grateful.
Sioux Blalock
I just wanted to tell you how lovely I found your clothing, but your service is even better. You have the most gracious customer service I have ever experienced, and it has just been wonderful to order things from your store. Thank you so much.
Lex
I just wanted to tell you how much I love the black silk Guiletta jacket I received and the lovely red embroidered camisole top--absolutely stunning, so amazing indeed!! I am still lusting for the Carmen skirt, when I finish my Xmas shopping I hope it will still be around for me. Your designs are such incredible luxury, I love the Guiletta jacket. Thank you!!!!!!!
Dixie
Dear Candace and Jennifer,

You are so right. I love the pants. Thank you so much! Through the years I probably have one of the biggest collections of your clothing and I treasure every piece. I love your designs.

Thank you also for the beautiful butterfly. It is flying in my front room...
Much love...ann kent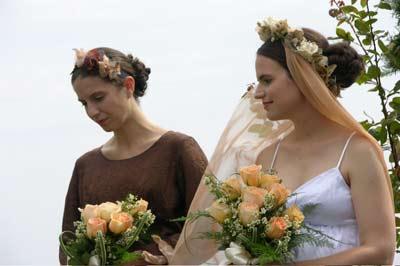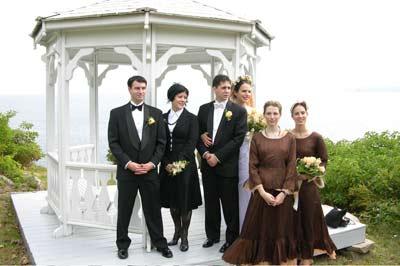 Candace and Jennifer:

Here are some fun wedding pictures that show off your awesome work. Thank you SO much for all your help.

Your pieces really made the 'look' and got many, many compliments.
Dominica
I couldn't be happier with the black maxi coat that I received from you yesterday; pictures did not adequately prepare me for how lovely it is in reality. The small was a perfect fit, and appears to have been custom-made for me. I can't believe you're no longer offering this piece, I can't imagine how you had this one left either! Are people blind? And thank you so much for the gift of the camisole as well. One more reason to love your company! I am sure I will be placing another order before too much more time has passed. Your new "rock and roll" pieces are stunning. Thank you again, and have a great day!
Kathy DuBach