To have your photo or comment included in the Customer Album please contact us!
Our favorite Wood Elf! Debi looks enchanting in her one-of-a-kind Woodland Cloak and Skirt...as though she just swept in from a Tolkien epic! Also shown with her knight, Aidan, ready to protect should an Orc come in to view!
Debi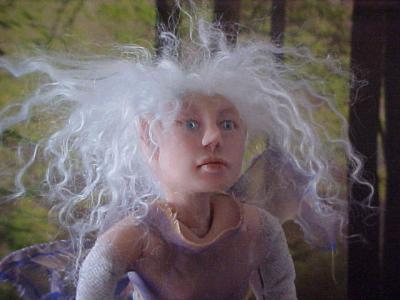 I have to say, that Gypsy Moon is the most original and well made clothing I have ever bought. And the quality does not stop with the clothing, the service is far above and beyond with fast shipping. Honestly, I am selling off my other pieces of clothing and buying more and more pieces. My other clothing just doesn't appeal to me anymore, you have changed my style forever. Finally I have found what I have been looking for, you know, the thing that makes your heart "jump" feeling! Thats what Gypsy Moon does *smile*

Mechel with her Faerie, Rowena!
Here is Karen looking beautiful in her new Froud FaeryWear!

"I ordered the dress and shirt from you on the 4th. It was at my door when I came home today, the 7th.

Snow is everywhere up here now, big flakes coming down now, on top of two feet of snow already piled up.

I unwrapped your package, and tried on the dress, and the shirt over it.

It's as if I became who I Am.I have designed and sewn my own clothes for years, but you have actualized something beyond my daily wear. Thank You so much for your creativity and Must Be passion for what you do."
-Karen

Karen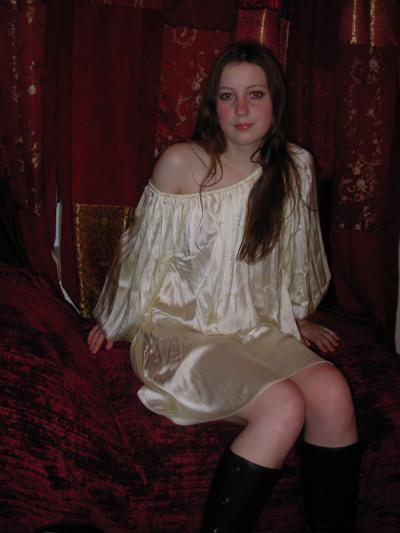 Holly in her custom Buccaneer Blouse!
Holly
Here's Holly, making a fine pirate wench in her Fanny Campbell's Waistcoat, Shipwrecked Petticoat, Posy Skirt, and Archangel Cuff!
Holly
Hi there. You all made me two amazing skirts back in February and March for my wedding and I've finally gotten around to getting a picture ready for you. I want to thank you again for the beautiful work you did. The effect was exactly what I was looking for and I got so many compliments on my outfit. The bodice was made by my amazing mother, and I made the belt, jewelry, and hairpieces. The whole thing came together perfectly and I am so happy to finally have some of your beautiful skirts! Hope you enjoy the pic.

Thanks again.

-Liz
Elizabeth
Hi Jennifer,

Here are some pictures of me in my Blur Leather Jacket. I love it!! It fits perfectly and is just the right weight for this time of year.

Thanks a bunch,
Lori
Hi Jennifer! :D

That is awsome! Oh, how exiting! :)

Hehe, it`s been really hard to be patience, it allways is when you are looking forward to something.>But this is perfect timing really. You can feel it in the air that autumn is on it`s way.

I had a photoshoot today as a gypsy witch (believe it or not! *laughs*) I`m doing a seies of 4 different witches. Hopefully before the snow arrives.And I allmost freezed to death. Boy was it cold..So a pair of knitted patns will ceep me warm. ;)

Thanks again for the fabric scraps! I have allready started sculpting the sculpture, and found a perfect pose. It is so easy getting inspired just looking throught the photos on your site. :)

Thanks for letting me know my package is on it`s way! I can hardly wait!

Take care of your selv, Jennifer!
Brightest blessings,
Marita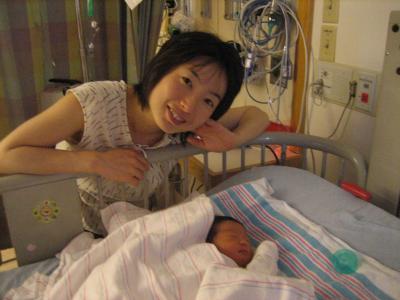 Yas and I are proud to announce the arrival of our son Soma. He was born on Monday May 21 at 2:50pm. Weighing at 7lb 3oz (3275g), he is a
healthy boy and doing extremely well. I was in labor for 14 hours, but the delivery was quite smooth, and I am recovering just fine.

Having finished his school just in time, Yas and I will be at home taking care of him before we head back to Japan on July 6th. Thank
you for your encouraging words leading up to birth, and please wish us luck in being parents!!

Warm regards,Yas and Hiroko

Hiroko
Hiroko is wearing a custom made blouse of cut silk velvet and iridescent velvet....perfect for before the baby and after!
Hiroko